Nora Unitarian Universalist Church - Hanska, Mn
---
[an error occurred while processing this directive]

Nora Unitarian Universalist Church
12333 155th Avenue
Hanska, Minnesota 56041-4310

March, 2006


Return to the Newsletter Archives

- Sunday Schedule -
Adult Discussion Group: 9:00 A.M.
Choir Rehearsal: 9:00 A.M.
Social Hour: 10:00 A.M. Worship Service: 10:30 A.M.
---
- Sunday Services -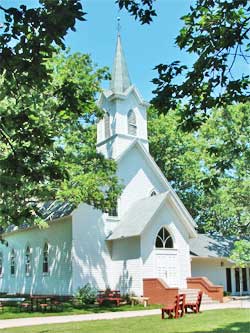 March 5: "Emerson in Winter" – Part II

March 12:
Guest speaker Grant Pylkas of Inver Grove Heights.
Discussions of problems and their solutions in public education
(no choir rehearsal)

March 19: "Women's History Month:
Unitarian and Universalist Rabble Rousers"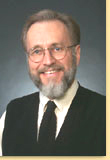 March 26:
Guest speaker Christopher Loetscher of Cathedral of the Holy Trinity, New Ulm
---
Check out the new link that was added on the Links page!
It is a link to the Unitarian Historical Society of Norway's web page that features a very interesting article about Kristofer Janson.
View From The Hill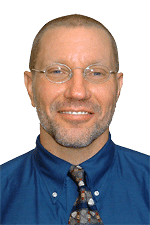 She was described as blunt, exhausting and belligerent. The message of her book rings eerily up to date despite the fact that it was published some forty years ago. She died last month, at 85, still speaking truth to power. And she would have been outraged to learn that the South Dakota legislature is on a course that, if successful, would make one of the most private of any woman's decisions subject to the moral ethos of duly-elected religious conservatives.
She was, of course, Betty Friedan. The book was The Feminine Mystique.
As I prepare for sermons during Women's History Month (March), I'm reminded how antiquated the word feminist sounds to some. Sure, things were bad back in the day, but all that's behind us now. Sexism is a thing of the past. In this country, women can do anything they want.
So long as they're willing to be paid 20% less than men who perform the identical work. The issue of justice aside, that 20% may not seem like a big deal. Tell that to the single moms. Calculate the number of dollars lost over the course of a woman's career. Put a price on the cost to one's sense of worth in a society that, overall, says you're worth only 4/5 of a man. (Admittedly different in scope and consequence, does it not call to mind the 2/3 formula used to count male slaves in the antebellum South?)
Looking back on the life and times of Betty Friedan, perhaps the best summary I've found comes from a book written for youth, Rabble Rousers, by Cheryl Harness: "When a woman uses her own credit card and pays the bill with money she earned as a TV news anchor, jet pilot, firefighter or senator, she can thank the "bra burners" and the "libbers" as feminists were called by many who did not share their views."
Looking at our own lives and times, every "entitlement program" cut is a disproportionate blow against women and every vote in support of the pro-life cause is a direct assault on their right to reproductive choice. Perhaps it's time for more of us to dust off an antiquated word: feminist. Perhaps women haven't come as far as we once thought.

Blessings,
Don
Social Justice Committee


FOOD FOR ALL
As part of Nora Church's social justice commitment we are providing the people power for the distribution of food for the Food For All program on Saturday, March 11. Food For All was one of the programs selected at our June annual meeting as a congregational response to our local area's needs. Food distribution is provided to anyone who registers at the Presbyterian Church in St. James. No applications are necessary. The program supports a large number of elderly and families who come from a wide geographic area. Members of the Coming of Age class and their mentors are participating in this service project. Anyone else who would like to join us is more than welcome. We will meet at church at 7:30 A.M. and carpool to St. James. We will finish around 11:00 A.M. Any questions - contact Darrell Hinsman, 507-359-7494.

Second Sunday Offerings
On the second Sunday of each month the "loose" money will be donated to Food For All, our designated agency for addressing local hunger. (The Social Justice Committee suggested this approach, and the Board approved it.) The Second Sunday offering will apply to cash and change only, although checks may be designated to Food For All by writing "Food For All" in the memo line. Thank you for your gifts to those who need them most!


To Keep In Touch
Our thoughts and condolences are with Brenda and Mark Wiger on the loss of Brenda's father this past month.
We keep John and Anne Makepeace in our thoughts as John's father passed away recently and his mother is dealing with serious health issues.
If you know of anyone needing our assistance or attention please call one of the following Caring Committee members:
Georgine Tepley (chair) 359-3060 (weekdays after 5 pm)
Shirley Olson 439-6879
Carol Chambard 354-2242
THANK YOU! - Caring Committee

BOARD NOTES
The Board approved replacing the furnace in the parsonage after it developed a crack. The new LP-fueled furnace is in place, and Rev. Rollins says it has made a big difference in his allergies.
Because the furnace was considered a maintenance issue, the funds were taken from the Buildings and Grounds budget. However, the Board was concerned that the spending limit placed on the Board in the by-laws may need to be increased to meet other unanticipated expenses. The current limit is $2,500. Timely notice will be given to the congregation before any by-law change is presented at the Annual Meeting.
MONEY MATTERS
Pledge drive time is upon us, and Finance Committee members will be meeting soon to decide on the format and prepare fund-drive letters. The Finance Committee could use more members, so volunteers are welcome. Contact Sally Hanson or Janet Rosenbloom.
ATTENTION ALL COMMITTEES
With budget time looming, the Board of Trustees is asking committees to prepare budget requests for FY 2006-7. The Board would like to have the figures by April 2. This is a good time for committees to assess their year and discuss how they can be more effective.
UU-UNO SEMINAR
The Annual Intergenerational Spring Seminar, scheduled for April 6-8 in New York City, will engage UUs in different dimensions of poverty. Participants will discuss what poverty is and the impact on the lives of people, and will also look at the causes, and more importantly, at possible solutions.
The event starts for youth and advisers on the evening of Wednesday, April 5, with an orientation on homelessness. On Thursday, the focus will be international – on extreme poverty induced by war and conflict. There will be a tour of the United Nations building and a speaker from the UN. On Friday, the focus will be on the U.S. and Cananda. On Saturday morning, the program will focus on the relationship between being a UU and poverty.
For more information, check the flyer posted on the bulletin board in the Fellowship Hall.

Religious Education
We have started our focus on learning more about specific people and events that have shaped our UU religion. A Lamp in Every Corner is a collection of stories about UU history, and it will be our primary resource for this unit. Each week, the children will hear a story from A Lamp in Every Corner. The remainder of their class time will be spent on activities about the topic of the story. Other supplemental resources that will be used are UU and Me , The UU Kids Book, and From Long Ago and Many Lands. If you are interested in having your children share the stories they have heard in Sunday School, please let Anne know, and we will make sure you get a copy of the book or story for you to read.
MARCH SUNDAY SCHOOL TOPICS/TEACHERS:
March 5:
A Lamp in Every Corner - "John Murray Brings Universalism to America."
Teachers: To be determined.
March 12:
A Lamp in Every Corner - "The Baltimore Sermon - Unitarianism."
Teachers: To be determined.
March 19:
No Sunday School, Winter Fun Activity
Anne will be contacting you with information regarding the activity.
March 26:
A Lamp in Every Corner - "The Flaming Chalice."
Teachers:- to be determined.
IMPORTANT DATES:
March 5:
COA kids will visit St. Mary's Church in New Ulm. Mentors are invited to join us.
We will meet for lunch during potluck at Nora after the visit.
March 8:
6:30 RE Wednesday. Kids Choice - Anne will solicit ideas from the kids and they'll vote on
what they want to do. COA class.
March 12:
COA kids will visit Mankato Fellowship. Mentors are invited to join us. We will join the youth from Mankato for a potluck lunch and then skiing/tubing at Mt. Kato following the service. All families are invited for lunch and skiing/tubing. We'll arrange carpooling from Nora to Mankato. We need to know how many people - kids and adults would like to go skiing/tubing. Please let Anne know by March 5. How many people from your family will go skiing/tubing by 3/5 so we can plan accordingly.
March 22:
6:30 COA class.
VERY IMPORTANT INFO:
The COA class will visit the UU Fellowship on 3/12. Please see above paragraph.
REMINDERS:
* Sunday School is from 9:30 -10:15.
* We will have Sunday School after RE Wednesdays.
EXTRAS:
The nursery is now open for infants/toddlers /preschoolers and their parents during services now.
Please feel free to use it as you need.
We would like the children from the Juniors and Tweeners class to join us during church, however recognize that between Sunday School and church it may be a long time for the children to sit. If families are feeling the church service is too long for the younger children (Juniors and Tweeners) to sit through, they may feel free to let their children leave after the children's story. There will be an age appropriate video downstairs for them to view until the end of the service. We ask that the elementary school children not use the nursery as it is a tiny space designed for the youngest children. Thank you for your assistance.
We are always looking for people interested in teaching or helping out with RE and Sunday School.
Please feel free to talk with Anne Rieke if you have questions about the Nora RE program.
---


NORA'S 125th ANNIVERSARY
Celebrate Nora's 125th Anniversary with us on Sunday, August 20! Also keep your calendars clear on November 11 for a night of dancing at the Community Center in Hanska. We are currently updating the Centennial book so if any of you have photos or stories to share, please contact Sheldon Rieke, Chris Bodick, or Joy Rathman.
---


Lunch Bunch
Wednesday, March 15 11:30 AM
"Main Ingredient"
Minnesota Street (200 Block N.)
New Ullm
---


The Unitarian Universalist
Partner Church Council
has begun its
2006 Pilgrimage Season
A listing of trips to Transylvania is
posted on the bulletin board in the entryway.
---


Missing a Watch?
It was found the first week
in January at Nora Church.
Please call Nita for more
information at 507-469-8912.
---

New Ulm Food Shelf

A Reminder:
Please help fill our plastic tub in the entryway with non-perishable food items.
Once filled it is given to the New Ulm Food Shelf for those in need.
This will be an on-going project.
---


CANU Coffeehouse
Friday, March 10
8:00 PM
Rhein River Arts Center
210 Minnesota St., New Ulm
Come listen to local talent share their poetry, stories and music.
Come share your own!
Entrance fee $5 ($3 for CANU members), free for participants.
---


" BRING A FRIEND" SUNDAY

The Membership Committee has designated April 2 as "Bring a Friend" Sunday. (Also, Potluck Sunday!) This is your chance to share why you are a member of Nora Church and a welcoming opportunity for people you know to experience that in person. Let's get the word out why we're here!
---


PSD Annual Conference
Giving Life the Shape of Justice
The 2006 Prairie Star District Annual Conference is coming up. Come join UUs from across eight states! This year the conference will be held April 28-30 and will be hosted by the Unitarian Universalist Society of Iowa City, Iowa. Registration packets are available at Nora Church or you can go on-line at: www.psduua.org. Deadline for Early-Bird Discount is March 27.
---
OUR MARCH HONOREES OF NORA CHURCH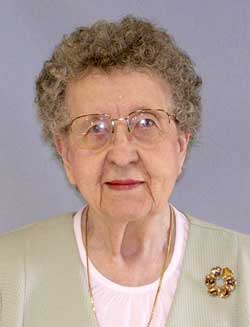 - MURIEL THORDSON -
Rare as it is these days, some people choose to live in their hometown their entire lives. Lifelong Nora member, Muriel Björneberg Thordson, is one of those folks. She was schooled in Hanska, met and married her husband, Erwin there, worked and raised a family – all in Hanska. Muriel had one sister, Joyce Hetle, also a lifelong Nora member. Muriel and Erwin raised one child, Marlan, who still lives in the area. She is also blessed with three grandchildren and one great-grandchild. These days, Muriel enjoys reading biographies and magazines. She also enjoys watching the news and game shows on television. Music comes to mind when Muriel thinks of our church. She and Lorraine Becken are the surviving members of a six-member, all-girl choir under the direction of Mrs. Walen, spouse of one of Nora's former ministers.
We extend our gratitude and appreciation for Muriel's service to our church!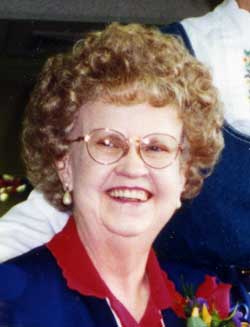 - MARYLINN O'REILLY -
Marylinn Baekken O'Reilly was born on a farm in Linden Township. She is one of five children, four of whom still survive. Her great-grandparents (family names: Moe and Baekken) were among the most influential of Nora's founders. After her education in a country school, Marylinn moved to White Bear Lake, near Minneapolis, where she met and married Paul O'Neill in 1955. They moved first to Bloomington, then back to Hanska. Marylinn was active as a volunteer for several organizations, including the Cancer Society, Lake Hanska, the American Red Cross, Nora Women's Society, the "Over 60 Club" and the American Legion Auxiliary. Her current hobbies include croqueting and reading. Marylinn has been a member of Nora Church for her entire life. When asked about her memories of church life, she cites both weddings and funerals.
Thank you, Marylinn, for your service to Nora Church!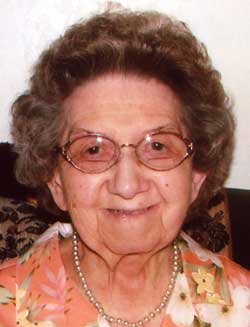 - CLARICE SANDMANN -
Clarice Sandmann is yet another of our lifelong members. Born on a farm in Linden Township, she worked on her family's farm and even hauled coal for the country school she attended. (She was a good student.)
Clarice was the youngest of five children; she had two brothers and two sisters. She married her husband, Ezra, and together they worked a farm and raised five children of their own. (Clarice and Ezra were married in our parsonage.) Over the years, their family survived a demolishing fire, years of failed crops and various health problems. Clarice has had a lifelong interest in cooking, bowling and dancing. Her fondest memories of Nora Church are breakfast and hymn sings at Hanska Lake, and a Ladies' Aid skit when she played one of Nora's prominent leaders.
Blessings on you, Clarice. Your work is most appreciated!
- DOROTHY STROM -
Sadly, Dorothy Strom passed away last month. While we miss her strong hugs and ready smile, we honor her with this profile. Dorothy Thedens Strom was born in New Ulm and raised on an area farm. She married Henry Strom in 1925, and together they farmed near Hanska, in the Browerville area. Henry passed away in 1974, and their son, Myron, took over the farm operation thereafter. Dorothy leaves behind a son, three grandchildren, two great-grandchildren, four great-great-grandchildren, a sister and several nieces and nephews. She was an expert maker of meatballs for our annual Smorgasbord, a faithful worker and a truly good soul.

Next month our April Honorees are Al and Dorothy Swanson.

MERE LYS
I would like to hear from everyone on whether you would like to continue receiving the Mere Lys by mail or if I could send it to you via email. The time I would save by emailing the newsletter would be immense - time that I could put to other use for Nora. Of course, I realize that not everyone has an email account, but if enough of you prefer the email route, then we'd probably save money as well even if we stopped with bulk mailings and went with the standard rate. I want to check this out, but I need your help to do it! You can also take this opportunity to let me know whether you would like to discontinue receiving the newsletter altogether.
THANK YOU! -Nita
To send me a reply, click on this link, print the page and send the page to me at:
Nita Gilbert
Office Administrator
Nora Church
12333 155th Ave.
Hanska, MN 56041
OR
Click on this link, look at the form and just send Nita an email at:
THANK YOU!