Nora Choir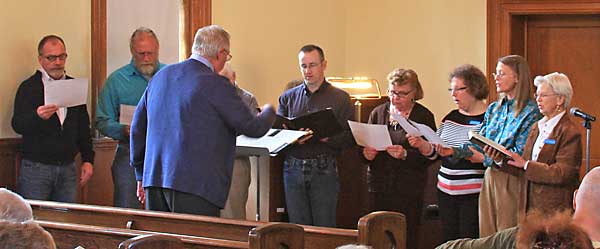 We rehearse on the 1st and 3rd Sundays in the church sanctuary on Sunday mornings from

9:00-10:00.


Our rehearsal schedule is posted below.
Choir membership is open to anyone. No audition is required.
You do not have to be able to read music to join our group.
(You can easily learn your part by singing along to the mp3 files of our music.)
All members receive practice CDs which include sing along music for each part to all music performed.
All music is also available below in mp3 format.
Click on a link to listen.
Right-Click on a link to download.
(Mac users will control-Click on a link.)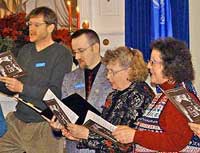 Come and enjoy our warm fellowship and great music.
You can contact the choir director by e-mail at , or if you do not have access to e-mail you can use the form on the comments page. Please note that if you use this form, your comment submission will not be published on the comments page. It will be forwarded as an e-mail to the choir director.
Rehearsal Schedule
Please check weekly - this may change!
Rehearsals are usually the 1st and 3rd Sundays of the month from 9:00-9:45 a.m. in the church sanctuary.
2017

(Performance dates are in bold.)
August
6
October
15
November
5, 19
December
3, 17
2018

(Performance dates are in bold.)
January
7, 21
February
4, 18
March
April
- Repertory -
These files are only to be used to learn the music.
No other use is intended.